Diddy & Yung Miami's Relationship Timeline
Diddy and Yung Miami continue to make headlines as one of Hip Hop's hottest new couples. They appeared together at a number of high-profile events and publicly expressed their support for one another. Most recently, Diddy compared Yung Miami to Oprah, stating that he believes she will one day reach the billionaire's level of wealth. This is largely due to Miami's vast work ethic, endless business ventures, and talent. Evidently, heavy words like these are proof of their fondness for one another.
However, one thing stood out in the nature of their relationship: they refused to put a title on their bond. Indeed, they went on dates and were publicly affectionate with each other, but the exclusivity of their relationship was always clouded in smoke. Nonetheless, they are a fun and sexy item and have had a few definitive moments that impacted pop culture. Here's a breakdown of their time together so far, from their early moments as an item, until now.
Summer 2021: The Genesis Of Diddy & Yung Miami
NEW YORK, NEW YORK – MAY 01: Yung Miami and Sean 'Diddy' Combs attend The 2023 Met Gala Celebrating "Karl Lagerfeld: A Line Of Beauty" at The Metropolitan Museum of Art on May 01, 2023 in New York City. (Photo by John Shearer/WireImage)
It is unknown to the public how the two met, but seeing as they are both musicians, it's expected that they crossed paths at an event. Before they officially confirmed that they were together, however, there were already rumors of a romance. By the summer of 2021, speculations were being tossed around in the media. Neither of them addressed it though, even though they were sighted in public together a handful of times.
June 2022: Relationship Confirmation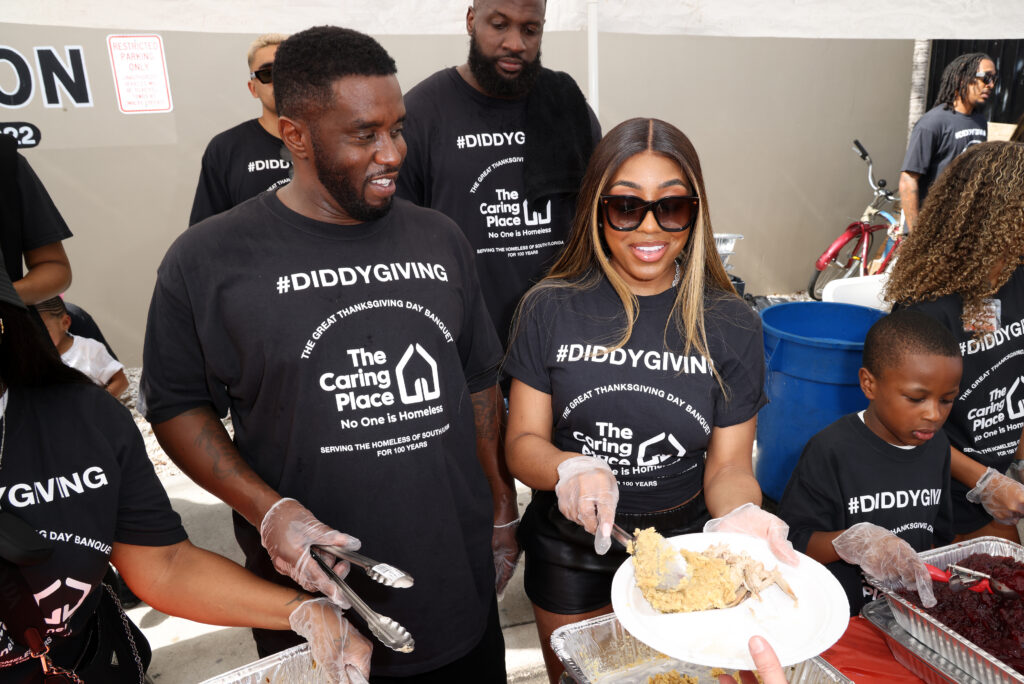 MIAMI, FLORIDA – NOVEMBER 24: Yung Miami (2L) joined Sean "Diddy" Combs and his family, his daughters Chance, D'Lila and Jessie, as they celebrated Thanksgiving Day at The Caring Place in Miami on November 24, 2022 in Miami, Florida. (Photo by Alexander Tamargo/Getty Images for Sean "Diddy" Combs)
Several months passed between the initial rumors and when the couple finally admitted to being an item. For a long while, Diddy and Yung Miami ignored the prying questions, but still further fueled public speculation. All of that finally changed in June 2022. Diddy and Yung Miami addressed the topic in an episode of Yung Miami's podcast, Caresha Please. When Yung Miami asked him, "What we is?" on the episode, here's what Diddy had to say: "We date, we're dating. We go have dates. We're friends. We go to exotic locations. We have great times." Diddy definitely took his time coolly spelling all that out. They eventually moved on from the topic as the conversation progressed. However, fans and the media had finally gotten the confirmation they'd been waiting on for months.
June 2022: BET Incident
A notable moment in their relationship occurred later that same month. It was on the night of the BET Awards when Diddy was awarded the Lifetime Achievement Award. While Diddy gave his acceptance speech up on stage, Yung Miami was seen holding up a "Go Papii" sign, cheering him on. Diddy later received backlash for not acknowledging the City Girl, even though he appreciated his other exes. Yung Miami didn't seem bothered though. She doubled down on X (formerly Twitter) with a simple and short "GO PAPI! ❤️" post.
Sept. 2022: Yung Miami Shares Details About Her Relationship With Diddy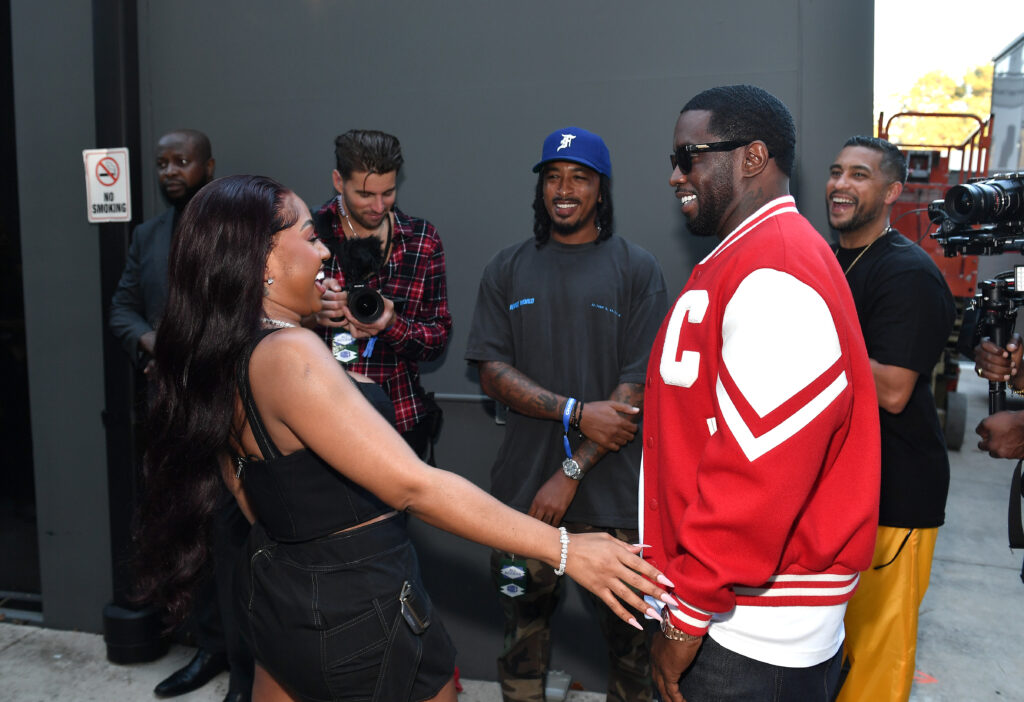 ATLANTA, GEORGIA – SEPTEMBER 23: (L-R) Yung Miami and Sean "Diddy" Combs attend REVOLT World 2023 Presented By Walmart at Pangaea Studios on September 23, 2023 in Atlanta, Georgia. (Photo by Paras Griffin/Getty Images for REVOLT)
In September 2022, during an interview with XXL, Yung Miami further elaborated on her relationship with Diddy. "We are dating. We single, but we're dating," she said. "People don't know what dating means. He's single, I'm single, but we're dating. That's what I mean when I say we go together. When we're together, we're together. We're having the time of our lives, but we're still single."
She clarified the nature of their relationship as well, which led to the media insisting that they had an open relationship. However, Yung Miami simply meant that while they were hanging out and going on dates, there was no official title yet concerning their relationship. "He see other people outside of me and I see people outside of him," she said. "I'm young, I'm dating, you know, having fun… doing me. He's doing the same thing. I can't speak for exactly what he doing or who he seeing, but we single and we dating."
Nov. 2022: More Relationship Shenanigans
Between September and November 2022, Diddy and Yung Miami were seen together often. Yung Miami was also featured on the remix of his song "Gotta Move On," and she appeared in the music video. In November, Diddy received an iced-out chain from Yung Miami for his birthday. The two were openly affectionate towards each other, and glimpses of their relationship often made it into social media.
Dec. 2022: Murky Waters
While things were rosy for a number of months, the internet became privy to a couple of chips in the wall. Drama ensued in Yung Miami and Diddy's relationship after the latter welcomed his seventh child. In December 2022, when he announced the arrival of the child on social media, the news shook the net. Following the announcement, Yung Miami was called a "side chick" by Akademiks. Soon after, she also got into a heated online row with Diddy's ex-girlfriend, Gina Huynh. 
April 2023: Diddy and Yung Miami: Up In The Air
NEW YORK, NEW YORK – SEPTEMBER 15: Sean "Diddy" Combs and Yung Miami attends Sean "Diddy" Combs Album Release Party For "The Love Album: Off The Grid" on September 15, 2023 in New York City. (Photo by Shareif Ziyadat/Getty Images)
In April 2023, in an interview with The Cut, Yung Miami shared that she was no longer dating Diddy. After answering "no" when asked if they were still together, she further elaborated. "We're still friends! We're still good friends! But we're single," she said. "That's not my man. We had our own situation, I'm not gonna put a title on it. We were fucking with each other hard… were together every day at one point. He supported me, I supported him. I'll let the internet call it whatever they want to call it."
However, while their relationship officially lasted almost a year, the pair are still very much having fun together. Furthermore, they continue to fuel rumors of being an item. For example, Yung Miami and Diddy recently spoke about their sex life, among other things on Apple's Love Radio. So whether they are seeing each other, or just loving on each other loudly, their relationship is still far from over.
About Author